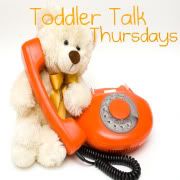 Today's Topic: Fun and Educational Activites Outside the Home:
Well, during the weekday we are pretty limited due to the fact that we are currently a one car family, so activites need to be within walking distance. Luckily for me, there are actually three or four playgrounds within a mile and a half of our apartment. So we go to the playground quite a bit! There is also the library, which I mentioned last week.
Another thing Peanut absolutely loves right now, is to go and run around at a field near our house. She takes her little bucket and spends hours each week looking for little "treasures". These treasures mostly take the form of rocks, sticks, pinecones and interesting looking weeds. This activity takes a lot of patience on mommy's part because we walk soooo slow! (wouldn't want to miss a single pebble!) But it is ridiculously cute to see her get so excited over such simple objects! There are lots of oooohs and aaaahhhhs and "oh boy!s.
On the weekend, we try to be very active and do something outdoors (especially during the summer). Luckily for us, we live on the North Shore of Massachusetts and there are a million little parks to visit. We usually just pick one and go. A recent favorite was Halibut Point state park in Rockport, Ma. Mommy and daddy got a great hike in while Peanut really enjoyed playing in the rocky tidal pools!
If it is a rainy weekend, a few of our favorite places to visit are Ikea, (she loves playing on all the beds, and sitting in all of the kid sized chairs) Jordan's furniture in Reading, Ma (they have an awesome liquid fireworks show every half an hour and they have these cute car shaped strollers with moveable sterring wheels that Peanut loves- they also have a Richards ice cream place, a jelly-belly store and a Fuddruckers) and the North Shore Mall. The North Shore Mall recently put in a cute little indoor playground that is perfect for toddlers and still in really good condition because it's less than a year old.
Also, a wonderful resource to check out if you haven't is the library's musuem pass program. They have passes/discount coupons for many places in your local area. We have been able to go to the Children's Musuem in Boston, the Peabody Essex Musuem in Salem, the Museum of Science and the MFA in Boston, as well as Stone Zoo and various MA state parks on the library's dime (or really steeply discounted) It is a great way to visit places that are normally ridiculously expensive ( I refuse to spend $15 a person to spend two hours in a museum!)
Sorry there are no pictures of Peanut enjoying any of these activities, but we have company coming in an hour and a half and I still have to shower, get dressed and tidy the apartment! You know how it is...