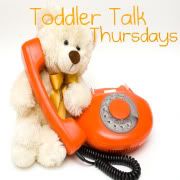 The ladies over at
Family and life in las vegas
and
Crazy about my baybah
have come up with a new blog party, and today is the first installment.
A little about the new party first: "Toddler Talk Thursday is a place for moms and dads of toddlers to come together over a weekly topic and share ideas, go-to toys or products. Not to mention it is a great way meet other bloggers of toddlers. Topics will range from Dinner Dos and Disasters, Books, and Bedtime."
This week's topic is Books. We all know that reading is an essential part of your toddler's learning and development. But what do you do if your Toddler doesn't show any interest in books?
We don't have a problem with Peanut not being interested in books, she is very interested in them. The problem is that she is very interested in pulling them all down from her bookshelf or throwing them across the room at mommy! It is pretty rare that she will sit down and listen to a whole book from us! When she was very little (and couldn't yet run away from me) I used to read aloud to her from any book I happened to be reading at the time. But sadly, that doesn't work very well for us anymore.
What I have found works well for us is to pick books with lots and lots of different pictures. And if they have different textures that's even better! But Peanut especially seems drawn to simple books with a lot of pictures of things that she can pronounce. She has been pretty big into animals, and food lately. Two words I hear all the time are "apple juice and and goat". So random I know! A lot of times instead of actually reading the words written on the pages, I just ask her to point at different objects, or ask her which animals make which noises etc., and this keeps her entertained for a few minutes longer than if I simply read the story to her. It's amazing how many words she has picked up from books. The last couple weeks she has really been whipping out new words! I swear she learns at least one new word a day. It's been awesome to watch!
We also make frequent trips to the library and I allow her to pick out one board book to take home with her for the week. She gets pretty excited about this, and it allows us to try out new books without paying for them. And so far she's been pretty good about having to give them back! (which I was nervous about)
But here are a few of her current and all around favorites:
B is for Bear
Where is Baby's Belly Button?
The Eye Book
Tails
My First ABC Lift the Flap Board Book
and Hide and Seek Puppy
Happy Reading!