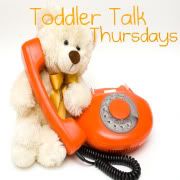 First off, I was featured last week, hooray! And yes, I will definitely work on getting myself a cute little button. As I've said before, I am a bit technologically challenged! But I've been wanting one. I just need to find an hour or so without grubby little fingers "helping" mommy type, and demanding to watch online episodes of the "amnimals and baaa" (shaun the sheep) Thanks so much for spotlighting me, made my morning!!!
This week's topic is music, and unfortunately I don't have any cute videos or pictures of the peanut dancing. I really wish I did, because it's super cute when she does it. Problem is she's notoriously camera shy when she's dancing. I'm not sure why. She might get it from me. I may or may not have spent last night watching the CMA music fest and dancing around my living room while my husband watched a movie in the front room. (If you really get into it, it totally counts as exercise!)
But there is almost always music going in our little apartment. Most of the time, I just make her listen to my music because I'm selfish that way. Also, she doesn't care about the words so much yet, unless there's a really catchy repetitive chorus. (like a lalala kind of thing, then she will sing along) Some of her favorites include:
Eisley
All American Rejects
Rascal Flats
Postal Service
and Guster
I do happen to have a husband who is very musically talented, and comes from a musically talented family. He plays guitar, violin and the drums (if pressed). Sometimes he will pick up the guitar and sing for us a little on Sunday mornings, and Emma likes to "help" daddy play the guitar by plucking at strings while he plays. I really hope she gets his musical genes because despite my name (Melody) I don't have a musical gene in my body (or family tree-sorry guys!)
Below is a picture of her clearly enjoying some guitar time with her "bappa" my FIL
She has also been "singing" to herself a lot lately (which is beyond adorable!) I catch her doing it a lot when she is laying in bed. She sings herself to sleep at night, and if she has had a good night's sleep, she'll sing to herself in the morning before I go in to get her up.
If you'd like to join us (and I'd reccomend it!) you can head on over to
Crazy about my baybah
,
Family and Life in Las Vegas
or
The Life of a Sippy Cup Mom